UPDATE: A commentor brought it to light that although the Tretorn boots SEEM vegan, the little strap at the top is LEATHER.  Sure enough, I received mine and it was leather.  I decided to cut the piece off, because I really like the boots and had them shipped already, and I have notified the company of their stupidity.  What's the point?  Their phone number is 1-877-TRETORN if you'd like to do the same.
Original Post:
I'm as guilty of over-wearing cheap, canvas Payless shoes as most people. I predominately stick to cute & comfortable shoes that I can wear to work  and keep on with my casual clothes or a skirt in my free time.  I'll admit, Willow Rosenberg was a comfortable, revolutionary style icon to me in high school.
I've been hooked on mary janes and mary jane style sneakers since I was a young one, and have a hard time spending more than $50, if not $30, on a pair of shoes.  I've sprung for Earth Vegan (loved my Intrigues) and J-41 shoes a couple times over the years in the upwards of $100, but mentally, it's really hard to do!  But, these are my precious feet, and I need to treat them well. Repeat…and  shop on clearance.
Earlier today, my feet were wet, I couldn't bear to buy another well, cute, cheap pair of rain boots from Target after mine cracked within a few weeks last year, and I bought these Tretorn Skerry Vinter Shiny W boots in purple from Zappos:
The product description was very influential:
In either rain or snow, these playful rubber

boots

will help lift "dampened" spirits!

Rubber upper is perfect for rain-drenched days.

Plush synthetic fur lining is warm and comfy.

Vulcanized rubber midsole promotes durability.
They made jokes! It rains/mists all fall and winter and into the spring in Portland! Synthetic, warm lining! They're Vulcan!
I'll update with my thoughts on this purchase. If you have affordable rain boot suggestions, please share!
Moving on, I bought these J-41 Palm Vegan Slip Ons a few weeks ago: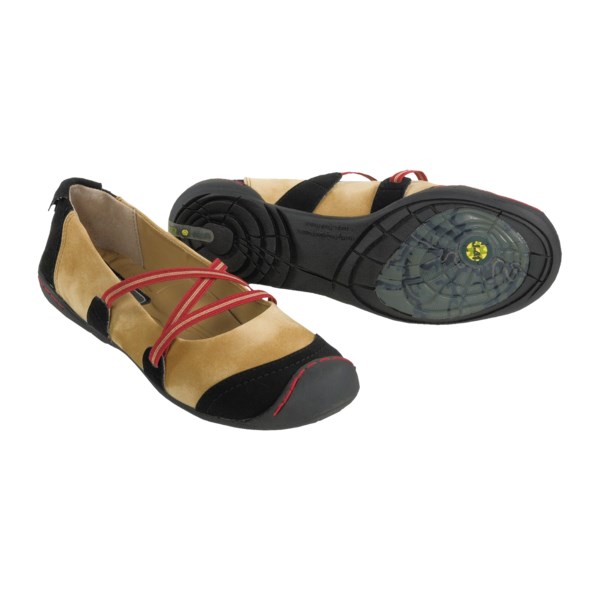 I really relied on my old pair of J-41 Sideline Naturals, with their sturdy, er, Jeep branded recycled materials. The most comfortable pair of durable sneakers I've ever owned, and so breathable! I couldn't throw down the upwards of $100 again, so I opted for the discounted pair above from under $30 with coupons from Sierra Trading Post.  I dig the look and these are great for wearing the entire day, but in line with most reviews, I can see them wearing out easily.  I'm still wearing them right now. Be care with J-41s, some are vegan, many are leathery.
In terms of socially acceptable dress shoes, I bought these from on sale from Humanitaire in the mid-$20 range when I was in California:
Cuteness attack.  I just have to remember and remember to wear solid colors when I put them on.  Really fine to walk in as well.
Now, in terms of shoes on my wish list:
Eleanor Shoes by Novacas at MooShoes There's just something about these.
More J-41s from Pie Footwear on NE Alberta Street:
These were the one pair of shoes in Pie that I was really, really eyeing.
And a pair of these Keen Erin Ballerina shoes without leather, please!